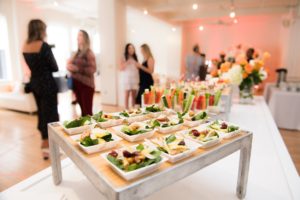 Not all weddings have to be big, fancy events with extravagant, expensive meals. Some of the best weddings are small, intimate affairs with friends and family, hanging out in the backyard, eating your favorite foods and having a great time. While many of the 2.4 million weddings held in the U.S. every year are fancy events, yours doesn't have to be. Here are a few types of casual catering services you should consider hiring for your big day.
Sandwiches: Sandwiches are an excellent sharable option for a crowd and perfect for a bite to grab while moving and dancing. However, you'll want to make sure that you know how much of each type you'll need before the big day, since this option is harder to customize on the day of. Check with your guests to see what options they prefer, and if you have any picky eaters you'll need to cater to. This option is great for classing up as well; sandwiches can be casual or fancy, depending on ingredient choice.
Pizza: It's hard to go wrong with pizza; most everyone likes this classic party food, and there's a wide variety of topping options and ingredients you can add to make it your own. Just make sure you've got something for folks trying to stay healthy as well, as not everyone can make room in their diet for this treat.
Tacos: If you're looking for a great option for a large and quirky crowd, a taco bar is going to be a go-to choice for your wedding. One of the benefits of this option is that it's flexible, and allows guests to choose just what taco sides and ingredients they want to have on their plate. If you've got a good number of vegetarian guests or picky eaters at your wedding, this will be one of the best ways to cater to them as well.
Looking for casual catering services for your wedding or big event? Top Flight Tacos can provide you with taco catering in Los Angeles featuring high-quality Mexican ingredients and popular event menu ideas. Contact Top Flight Tacos today for more information.